A tribute to George Lucas
One of the kindest and most generous men you could ever meet.
George was born in Australia in 1933 to Greek migrants Anthony and Evdokia who had arrived in 1920. His was a large and happy Greek Family who got together regularly. George, who trained as a French polisher met and married Linley Linton daughter of legendary silversmith Jamie Linton. He soon became Jamie's apprentice and by 1966 a partner in the Linton Silver business. He made much of the Linton silver and was so busy he did not have time for many designs of his own.
In the 1970s George studied at the Sir John Cass College in London where due to his skill he was a prize-winning student. After his father-in-law had retired he was in partnership with his brother-in-law John Linton for a while before he set up the shop Argenta (with his workshop below) in partnership with English silversmith and London gallery owner Gill Dutfield who came out regularly to visit. Argenta, in Leederville sold the work of Western Australian and English jewellers and silversmiths.
George became a guest lecturer at WAIT where he taught raising and to see a mug rise miraculously in a few hours was joy to behold. It was a skill he passed on to those who cared to learn. George generously shared his studio with me at a difficult time in my life and also took many WAIT graduates under his wing over the years.
He was a professional silversmith who loved his work. He made major commissions and exhibited in a few national exhibitions but mostly lived the life of a committed craftsman. He loved to make and even after he sold Argenta he kept making for the sheer joy of creating. His other love was classical music, the strains of which thankfully were appreciated by his cat Mozart who guarded the workshop.
George died on august 12th 2020. His generous spirit is sadly missed by all who knew him.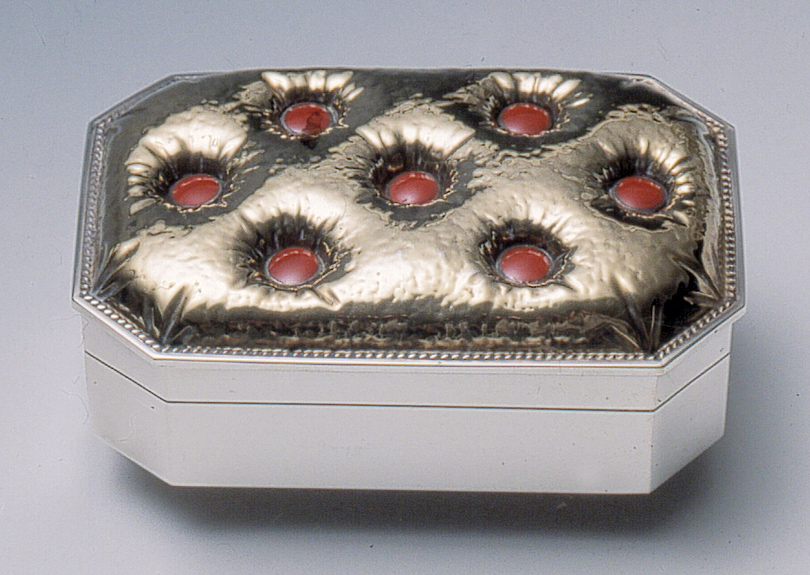 Dorothy Erickson